Santa Clara County Assessor Larry Stone announced today that the county assessment roll increased by 6.8 percent to $357 billion, an increase of $22.8 billion. In the past two years, the property assessments have increased by almost $50 billion. The assessment roll is a snapshot of the assessed value of all real and business personal property in Santa Clara County as of the January 1, 2014 lien date.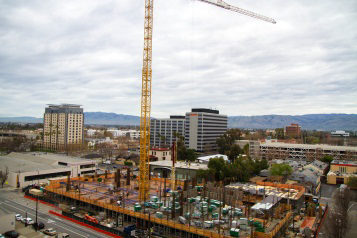 "Silicon Valley has been experiencing a very robust economic recovery for more than two years. The assessment roll reflects the dramatic improvement in local employment. The steady, month-over-month declines in unemployment have fueled a building boom in office and multi-family construction not experienced since 2007," said Stone. In March, unemployment in Santa Clara County had fallen to 5.3 percent from a high of 11.6 percent in 2009. "The result has been the emergence of Silicon Valley's new bird, the construction crane. These mechanical birds are crowding the skies from San Jose to Palo Alto in the rush to build new office buildings and apartments," said Stone. In the last 30 months, 4,800 new apartment units have been under construction or completed in San Jose, with another 5,000 units in the South Bay. The single family and condominium markets have also taken off after a slow beginning. "Between 2012 and 2013, the median price of a condominium jumped 17 percent in San Jose, and is quickly approaching the all-time high set in March 2007," said Stone.
The growth in the assessment roll is a direct result of both the strong recovery in the housing market, and an extraordinary office and apartment building boom. "The strong growth has been tempered, however, by the low California Consumer Price Index (CCPI)," said Stone. Proposition 13 limits the annual increase in the assessed value of all properties to a maximum of two percent or the CCPI, whichever is lower. This year the CCPI was 0.454%, the second-lowest on record, and the eighth time the CCPI has been less than two percent in the 35 years since the voters approved Proposition 13 in 1978. "The growth of assessed values is the result of a very robust recovery in the housing market, especially in geographic areas hit hardest during the recession including Gilroy, Morgan Hill, Milpitas and east San Jose. Major office and apartment development in the northern parts of Santa Clara County, including north San Jose, is driving the surge in property values," said Stone. "The good news is that there is more in the pipeline next year with the completion of two major sports stadiums, multiple high-rise apartment and office buildings, plus Apple's new world headquarters currently under construction."
Read more...