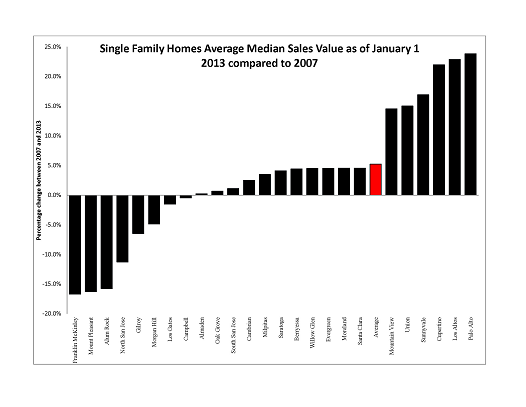 Earlier today, the Santa Clara County Assessor's Office released market trend assessment data for 68,000 residential and 2,000 commercial properties in which the assessed values were previously reduced due to the decline in property values during the recession. "In 2013, Santa Clara County led the state in the growth of assessed values, and we are once again on track to lead the state this year," said Assessor Larry Stone.
This is the second straight year in which there has been sharp decline in the number of properties assessed below their purchase price caused by the collapse of the residential real estate market. In the 2012, 136,000 residential and commercial properties were assessed below their Proposition 13 value. In 2013, this number dropped to 81,000 as market values continued to improve. "This year, even with surging market values, as many as 40,000 properties are expected to remain below their Proposition 13 value," said Stone.
The Assessor's Office is in the final stages of completing thousands of appraisals, audits, and other tasks necessary to close the assessment roll by the statutory deadline of July 1, 2014.
"Overall, this is very good news for all 68,000 homeowners. For most people, their home is their largest asset, so for every dollar increase in property taxes, there is a $100 increase in homeowner equity," said Stone. For 36,000 properties, the value lost during the recession has been fully restored, and the market value now exceeds the original purchase price. The assessed value will increase for the remaining 34,000 properties, but will still be below their Proposition 13 assessed value in accordance with the provisions of Proposition 8. According to Stone, the value declines were so prevalent that even a very "hot" residential market hasn't been enough to restore all value lost during the downturn.
The average increase in assessed value varies widely. For example, the average increase in San Jose is $90,000, while the average increase of a home in Los Altos is nearly $400,000. An additional 4,000 residential and 2,000 commercial properties are under active review and will be completed by the close of the assessment roll.
Read more...
Related Documents: