Fueled by the largest economic recovery in over a decade, Santa Clara County Assessor Larry Stone announced today that the county assessment roll hit a major new milestone exceeding the $400 billion mark. The gross assessed value hit $409 billion and the net taxable assessed value after exemptions was $388 billion. The net assessed value grew by 8.67%, an increase of $31 billion. The assessment roll is a snapshot of the assessed value of all real and business property in Santa Clara County as of the January 1, 2015 lien date.
"The assessment roll is a barometer of yesterday's economic weather, and it's getting very hot," said Assessor Larry Stone. This is the third straight year of Silicon Valley's incredible economic recovery. During the last three years, the assessment roll grew in excess of $80 billion compared to the Great Recession (2009 – 2012) when the total assessed value increased by a meager $29 billion. "Market values are up, and in many instances way up for every property type and geographic area of Santa Clara County. A good example is Silicon Valley's apartment market—it's on fire," said Stone. According to the assessor, vacancies in the apartment sector have declined to less than three percent, and rents increased ten percent in 2014. In San Jose the average rent for a two-bedroom apartment is $2,300 a month.
The residential property values have also exploded. According to Stone, the median price of single family homes in Santa Clara County increased 11.1 percent to $810,000 last year, but the average price was dramatically higher, topping out at a record $1.1 million
"The demand is driven by job growth, and Silicon Valley is at the epicenter of the nation's recovery," said Stone. According to Joint Venture Silicon Valley's 2015 Annual Index, Silicon Valley added 58,000 jobs in 2014, following 44,000 jobs in 2013. California added 471,000 jobs in 2014, a growth rate of 3.1 percent. "What is particularly encouraging is that compared to the dot-com boom fifteen years ago, this recovery is fueled less by startups and more by mainstream Fortune 500 companies that are investing in Silicon Valley in a major way, said Stone."
Major office and apartment development in the northern parts of Santa Clara County, including north San Jose, is driving property values," said Stone. The assessment roll now reflects multiple years of new construction. "The big change is that Silicon Valley is going from single-story tilt-ups to multistory buildings and campuses. When I drove the 237 corridor in Sunnyvale and Santa Clara during the recession, I would pass a half-dozen new, empty buildings. Today all are filled with major tenants, and recently I counted 14 new office and R&D buildings on that same ten-mile drive!" said Stone. The most visible symbol of new construction in Santa Clara County is Levi's Stadium.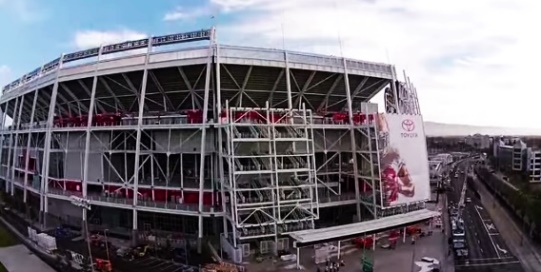 Using the best market data available, Levi's Stadium was assessed at $1.4 billion, reflecting the overall assessed value of the property including fixtures and equipment owned by the concessionaires.
"What's remarkable is that so many new buildings are under construction and won't be assessed to full market value until completion," said Stone. For example, the new Apple Campus, which will not be occupied for a few years, was assessed at $820 million as of the January 1 lien date. "That's a fraction of the final market value when the iconic campus is completed and furnished," said Stone.
Read more...